ABOUT RUNNINGMAN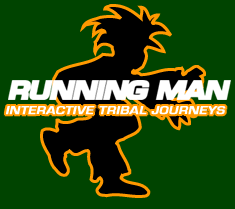 Welcome to Runningman online. For the next 90 days we would like to invite you to become a digital member of an expedition as it travels deep into the jungles of Suriname; a little known country on the north-eastern corner of South America. It's an adventure into one of the largest and most biologically diverse tropical wilderness areas left in the world.
Within its borders, Suriname contains more virgin jungle than nearly all of Central America put together. It is one of the least populated areas in the world. In fact, 85% of the country is classified as 'inaccessible' and is inhabited by only a handful of tribal groups, anaconda, jaguar, giant tarantula, piranha, multicolored macaws, and innumerable species of birds, flora, fauna and biting insects. In short, Suriname is an untamed country, one of the last frontiers where the future of the forest and its inhabitants are in the balance.
It is our goal that Running Man Interactive will serve as a catalyst supplying 'basic' observations from the source of ecological problem areas around the world. It's a mixture of travelogue, investigative journalism, video diary and educational program, combining elements of each, in a format open to on-line debate.
By utilizing cutting edge communication equipment to the fullest and applying ultra high-tech systems in a unique and progressive manner, we aim to supply a interactive platform that will not only enable the groups, organisations and tribal communities that we encouter along the way, a powerful medium to voice their opinions but one that, we hope, will also inspire increased awareness, active involvement and ultimately affect change where change is needed.
Having said this, we are not scientists, scholars or conservation experts. We are three people trying hard in our own way to draw attention to the issues that, collectively, we feel passionate about.
We are on a journey... a journey of discovery, learning every step of the way and we need your help to make it happen…
At some point we have to ask ourselves: what is progression if it is at the expense of others? How advanced are we if at the very least we cannot afford protection to those of our race who are ill equipped to fight for themselves? At what point do we apply our technology for the good of all? If not now, then when?....We would like to make a difference. We can see a way to do it. With your help we can try...
Runningman.