MISSION ONE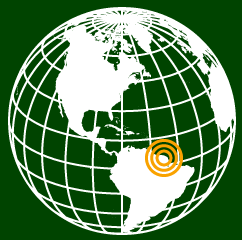 Suriname has one of the lowest deforestation rates of any country (around 0.1% in 1998). Within its borders there are programs that promote economic and ecological alternatives to clear cutting forest for timber. These include the development of eco-tourism, bio prospecting (the search for medicinal cures derived from the rainforest), sustainable harvesting of rainforest products, and the preservation of indigenous knowledge through an initiative called 'The Shaman's Apprentice Program'.
Using local transportation such as logging trucks, jeeps and kayaks; and with the help of local river and jungle guides, Runningman travels deep into the heart of the rainforest sourcing information from a myriad of different perspectives - From logging trails to mining camps; Amerindians to gunrunners; from high-tech bio-research facilities to the world of the Shaman and his apprentices.
Although this first journey is not specifically tribal in content, its aim is review what has been achieved in Suriname, offering those directly involved or effected a platform to voice their opinion on the current situation, in the hope that the tribal groups and areas approached later in the series may benefit by the application of similar principles.
Ultimately, it is our intention not only to entertain but also, where possible, to instill a sense of urgency, perhaps even the will to help... where help is needed. As mankind develops and expands, so much of the fragile world around us disappears as a consequence... 'Runningman' analyses this development at source and offers a rare inside view on the work of the few people and organisations currently trying to make a difference. We firmly believe in the potential of the internet as a powerful instrument of change.