The Runningman
Please excuse the format in which this biography finds its way to you. I am aware that Bio's chronicle the noteworthy achievements and/or accolades of those they are written about. In this respect, I must apologise, as the following is more of a list of activities in which I have been involved over the years, rather than a chart of my press and media history. Yes it does go on a bit...
In a life by design-
I've drifted in a Fulca (sail boat) down the Nile past ancient temples and papyrus reeds; visited the Valley of The Kings, The Tomb of Tutankhamen, The Parthenon in Athens; the arenas of Olympia; walked the streets of Pompeii in the shadow of Vesuvius; played in the sacred waters of lake Atitlan in Guatemala; fed Sandinista rebels with a boat load of oranges. I've been attacked by rabid mountain dogs in the foothills of the Himalayas; chased by a rhino in the forest of Thacadi; thrown down a waterfall by howler monkeys in Costa Rica; hunted desert deer with wandering nomads armed with a flint-lock rifle in the Ran of Koche; unwittingly smuggled contrabrand from India to Pakistan on a seven day camel trek; galloped on horseback across the desert towards the Sahara's Saqqara city, again towards Jaisamer in the Tara, and Darhab in the Sinai. I've danced for Bedouins by the light of the moon; drummed my way through the streets of Cairo with a procession of children following me; I've dined at a Maharaja's deserted palace in the middle of 200 miles of scorching golden sand; explored the Pyramids of Giza and the catacombs beneath the temple of the sun in Copan. I've crept through the jungle past armed guards at midnight to climb an ancient Mayan temple in the city of Tikal; witnessed giant turtles clambering up a deserted moonlit beach on the coast of Sri Lanka and trekked alone through the Himalayas past Chaenguanga and Fish Tail. I have swum in the Dead Sea, the Red Sea, The Gulf of Acaba, The Bay of Bengal, the Arabian, the South China, the Caribbean, the Sargasso, and the Mediterranean Seas, the Indian and Pacific Oceans, and the North and South Atlantic. I've dived with sharks on a reef in Taba, swum with dolphins in the Ganges, barracuda in Venezuela, and manta rays in Thailand. I've followed in the footsteps of Alexander Von Humbolt - explored a 10km long cavern in Venezuela; survived a near-death experience in a jungle river cave close to warring guerrillas on the border of Belize. I've visited Agra and the Taj Mahal, The Red Fort and the Lake Palace of Udaipur; trekked in the foothills of Simla and Darjeeling; ridden on the roofs of buses, trains, trucks and cars, on camels, cattle carts, rickshaws and kayaks, elephants and tuk tuks, bi-planes, props, helicopters and private jets.
I've been shot at by marauding Thai gangsters, held up with a 'Gloch' (gun) for a slice of pizza in New York; I've had a knife pulled on me in the Arab sector of the old city of Jerusalem. I've befriended factions of the Chinese Triads, the mobsters of London, Thailand and New York; witnessed stabbings, shootings riots and catastrophes; infiltrated a forgery ring in Cairo; narrowly avoided being blown up by terrorists in Israel, Sri Lanka and again in Guatemala. I've driven thousands of miles on motorbikes down the coastline of India, around Sri Lanka, the hill stations of Thailand and the streets of Manhattan. I've flung myself off a 330-ft high crane with only a piece of elastic attached to my ankle; jumped from a plane at 18.000 feet, zooming towards the ground at 180 miles per hour. I've raced a convertible Ferrari at maximum speed in a five car race on the Long Island Expressway. I've guided a bus full of sixty 'élite' models on a midnight mystery tour of New York's nightlife.
I've kayaked down the Bentota river in Sri Lanka on a balsa raft; smoked opium with hill tribes in the golden triangle. I've been marooned on an island near Morocoi. I've hacked my way through dense cloud forest for five days, alone with my machete; ridden on the back of elephant while looking for tiger; cruised around 100 coral Kay islands in a tiny boat off the south-western coast of Thailand; been a castaway on the island of Koh Chang off the coast of Kampuchea. I've climbed to the top of Mt. Roraima (The Land That Time Forgot) on the border of Guyana, Venezuela and Brazil and infiltrated a slavery ring in Bangkok. I've walked my way through Eastern Africa -Tanzania, Malawi, Mozambique, Zimbabwe and Zambia - with only a knapsack, a black pinstripe Hugo Boss jacket, an ebony cane and $300. I've drunk blood and milk with a Masai warrior on top of a mountain, in view of mount Kilimanjaro; suffered from malaria (temporarily paralysed one leg and went blind in one eye) alone on a deserted beach in Mozambique surrounded by landmines, wild cats and crocodiles.
Whilst in New York alongside Mark Baker, I co-hosted the city's fashion week parties: built a Haunted House in a deserted amphitheatre on N.Y's lower East Side, co-hosted opening nights of Club's System and Chrome, hosted VIP section of the Tunnel Club, the Palladium, run, promoted and fronted New York's Buddha Bar, and Flowers restaurant, promoted and hosted 'Trip on a ship' parties on the USS Intrepid aircraft carrier for 5000 people, Tavern on The Green summer parties. Controlled and co-promoted the Hampton's top clubs, Conscious Point and M80.
In Los Angeles, I teamed up with world-renowned ethnography and Academy Award Nominee, Jean Pierre Dutilleux. Working as contributing writer and first assistant. I completed three documentaries for his series 'Tribal Journeys' - studies of threatened tribes entitled: 'The Mikea of Madagascar', 'The Mursi of Ethiopia and The Kayapo of the Xengu province of Brazil'.
Inspired by Jean Pierre's work I began to research various tribal groups, the problems that were affecting them, and how I might help. The Runningman concept came out of that research. In January of this year (2000), I formed Runningman Communications with my old friend Jason Hosh, inviting anthropologist Max Baring to join us on mission one as cameraman.
Although the mission statement will explain the drive behind the company in detail - in the simplest terms Runningman is not about making money! Its about making a difference however small.
RM.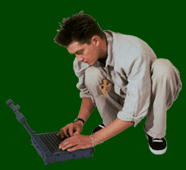 MAX BARING - Cameraman
Qualified with an MA in Social Anthropology in 1990 from Edinburgh University. His dissertation concentrated on the changing medical and healing practices in the parish of Zumbahua, in Andean Ecuador. At Edinburgh he was also the president of the Survival International local group, raising funds and organising letter writing campaigns.
Max then studied Film and Anthropology under Tim Asch at the Centre for Visual Anthropology, at the University of Southern California. Here he studied Chicano (Mexican American) health cosmologies in East LA, and made "Straight and Narrow". a film about the contrasting lives of two Mexican-American brothers, one a church janitor, the other a gang-banger. He also worked on a collaborative film project on the "underlying causes" of the Los Angeles Riots.
Since then he has returned to London to develop his film and photography career. His credits as a director/cameraman include "The Long Weekend" C4 - the heroin epidemic in London's Bangladeshi East End, "Birth of a Salesman" C4 - about Vacuum cleaner salesmen, "Breathing In and Breathing Out" a short film about a community lightwork-installation at the Trellick Tower in West London, "Living with the Bunker": Channel 4 - A film about responses to racism in SE London, and the first documentary to draw attention to the Stephen Lawrence case.
He worked as Camera Assistant on 2 segments of "Michael Moore's TV Nation" BBC 2, and also assisted for international advertising photographer Duncan Sim on stills location shoots in Thailand, Guatemala, and the USA, plus underwater assisting in Gran Cayman, and assisting in a helicopter in Sri Lanka. The campaigns he worked on include Ebel watches, Compaq computers and Chevvy trucks.
Max researched, shot, directed and edited currently 'shelved' "Made in Britain" - 16mm documentary portraits of diverse choices of life among young Bangladeshis in Tower Hamlets. His feature film script, an historical epic set in early 19th Century South America is currently optioned to a producer in LA. In 1988 he went on a research trip for the script to Peru, Colombia and Ecuador. From here he created a daily diary web site with stills and text to illustrate his research and to promote the script.
Max has travelled throughout Latin America. Also East and West Europe, Asia , and the USA. He also hitched on Pacific island cargo boats; Hong Kong to Tahiti, via Papua New Guinea where he got lost in the jungle.

JASON HOSH
Always inspired by the works of nature and ever intrigued by the works of man, Jason was based in the Far East for ten years and was cheffing as a spring-board to explore these aspects of life and their fragile balance in a 'modern world'.
From Cyclones in Bangladesh to tribal communities in Borneo and the Philippines, war in Sri Lanka and the horror of the Rwandan refugee crisis, drought in Ethiopia, endangerd wildlife on the Indian sub-continent and conflict in Northern Ireland; these are just some of the problem areas he has encountered along the way...
His writings on many of these issues have been published in Europe, South-East Asia and the Far East. He joined the Runningman team on the basis that 'awareness is the first step to change', and hopes that this project (although in its infancy),and the new medium it represents, will inspire others to play an active role in the issues raised.