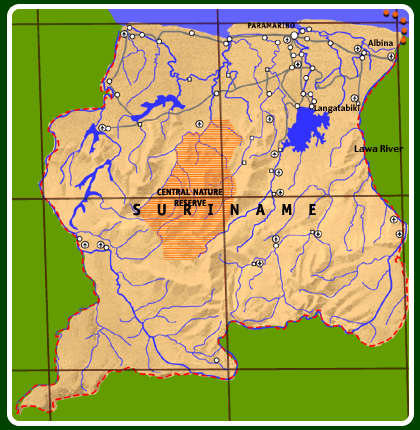 (8) We arrive in Galibi amongst indigenous coastal Carib culture. Here we bathe our mosquito-bitten bodies in the healing salty waters of the Atlantic coast. Again hook up with the World Wildlife Fund and STINASU this time focusing on their work with the Sea Turtles, with a group called Bio-Topic, and the local Carib community. Galibi is a crucial nesting site now with sadly many fewer Turtles visiting the beaches. Thankfully it is now a Nature Reserve. We show some of Bio-topic's research results and platform their work with the Carib community who have traditionally taken a harvest of Turtle eggs, to show how they are working together in the interests of all sides of the debate. We are hoping to pursuade the Surinamese Marines to aid us in an underwater section near Devil's Island the now-ruined prison from where Papillon first escaped at the beginning of the famous novel.

08/07/00 The Galibi Beaches with STINASU and Biotopic
09/07/00 Brave Beginnings- The Giant Sea Turtle
10/07/00 The Voice of the Kari'na - The Caribs of Galibi
11/07/00 Full Circle: A Day of Rest!