African Herbsman
Having spent most of last night working out the video feed and daily diary, staring at the screen trying to make a visual summary of a day so full of contrast and encounter...I finally shut down the computer at 3.20 this morning.... The now familiar drone of the generator replaced by a silence so total that it literally stopped me in my tracks....Only then did I take time look up at the night sky ... let myself drift off for a few moments as I stared at the stars above... It is a tough schedule doing what we do... so much happens from one day to the next... a myriad of experiences, sights sounds and heart felt feelings ... it is often a painful process trying to precise so much into so little!

There have been some interesting entries in the discussion board since we arrived here in goldmining country... I would especially like to thank Jan Horsden, a mining specialist and lecturer at Paramaribo University for his comments, also Mr.Ray Kril - International Co-ordinator of the Guyana Shield Media Project (GSMP). From their contributions it would seem as though it is really working.... People are talking about the issues we focus on.... Thank you. I think the main consideration and not one that I have mentioned to date is that this project is an ongoing process. Although we are scheduled to leave Suriname around the 20th of July the site will remain active for some time. In our rush to cover so much territory we have only skimmed the surface of many issues. Each contribution or comment helps us to gain a deeper understanding and as a result the series of documentaries we are producing will hopefully reflect the considered opinions of each of those who have joined us along the way...

Anyway... today

The journey across the river only took a few moments... . As we entered into Gran Creek, a small tributary feeding into the mighty Marowijne river, our guide Johannes explained that it was one of the first destinations to which he and his family had organised tours ... "nowadays we avoid the area as its waters have been contaminated by mining activities further up stream. It's not a place for tourists, you can't even drink the water". Looking down at the waters below confirmed this as we passed from the rich coffee coloured waters of the Marowijne into the milky creek.

I spent the day walking through the forest with Moisies the Medicine Man collecting plants for a treatment he is preparing for his wife. Johannes translated as we talked about the many different spirits that the Maroons believe inhabit the forest and affect their day to day lives. Moises explained his wife had fallen ill recently and that a Winti or forest spirit was to blame. Tomorrow...early in the morning he will prepare the medicine in an attempt to cleanse her. It is a ritual that we have been keen to witness since we first met with the Maroon people in Semoisie. Its origins are firmly rooted in African culture. Apparently during the ceremony the medicine man sometimes enters into a trance state to communicate with the spirits. Moisie has agreed to let us to film the proceedings so hopefully it will make up part of tomorrows feed. Also tomorrow in the afternoon we will be travelling downstream to Langa Tabiki where we hope meet with Granman Levi of the Parramacca peoples. It was another busy day... another brief summary... have a look at the video.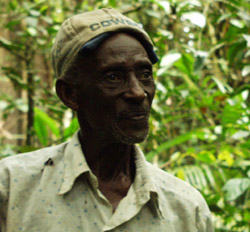 Moisies - A Paramacca Herbsman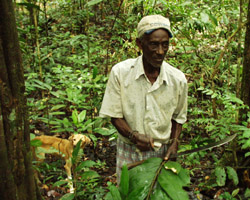 A Herbsmman and his Dog

Floating Home with the Medicine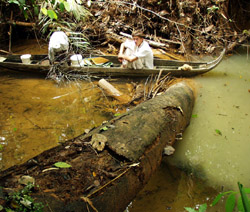 Stopping to Find Clean Water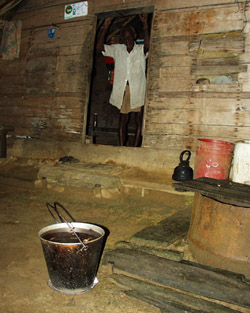 Magic Potion