DEVILS ISLAND: Fact & Fiction
Sorry, but today's entry doesn't have any global significance, raise any issues or focus on anything with any gravity.... We have simply taken a small detour to the infamous Devil's Island.... How could we be so close, just miles away without paying a visit to this legendary place? A couple of years ago as I strolled the streets of Notting Hill in London, an American family came up to me... middle Americans ...maps at hand cameras at the ready.... The young girl of the group approached me and speaking with a nasal twang said "Howdee... yarl know where those MTV people live 'round here, I wanna say hi..... I just larv them!" She was talking about a group filmed in London for an MTV series called the 'Real World' - fictional interaction between supposed strangers... in reality a total fix (I knew one of the participants) The young American girl being from so far away, had seen the show.... fallen in love with one of the characters and convinced her parents to break open the piggy bank and fly all the way to London in search of love... Why am I telling you this????

Ever since the beginning of this trip I have been looking forward to visiting 'Devil's Island', to visit the place where Papillon lived, to re-enact for a joke a scene from the movie where he (Steve McQueen) throws a sack of coconuts into the ocean... turns to his friend (Dustin Hoffman) and says "Ya Coming" .

Today as I walked around the Island asking people where Papillon lived.... I remembered the American girl.... Like many of my era, movies played a part in the process of my growing up... (baby sat by a cathode ray!) As a result fact has on occasion merged with fiction, fiction become fact. Papillon never came to Devil's Island .... All this time I have overlooked a major point..... It was a Movie.... Fiction... somebody's story.... Yes there was a character called Papillon... yes he was a convict....but to a large extent the rest is a fabrication ... Apparently the real character, burly, quiet and covered in tattoos was a doctor's assistant in the mainland Prison that we visited yesterday.

There is no 'escaping' (GRIN) the fact that the prison existed, that thousands of convicts where sent here between the years 1852 and 1953. In fact by the end of its first year only 3,500 of the 8,000 convicts who arrived on the island managed to survive ... malaria, yellow fever, and the guillotine calming the others.

Tomorrow we will make our way back to Suriname to Galibi where we will be meeting with the Captains of the villages to discuss their work with STINASU, BIO TOPIC and the giant turtles....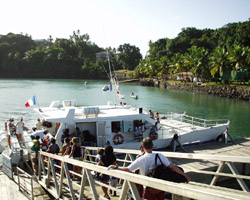 A Whole New World:Tourist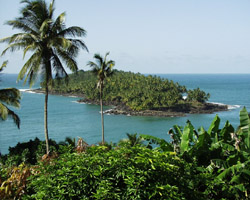 Devils Island: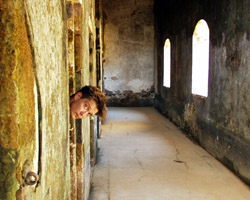 'How Do I Look?'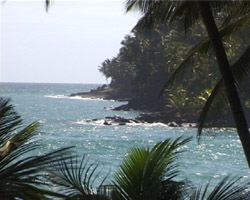 Paradise with a Chequered Past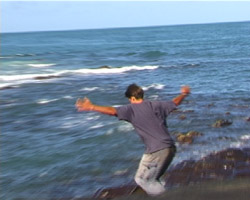 'You Comin!'