Tuning In
Waking up in the lunar landscape of a granite quarry this morning was not what we'd planned, but having spent so long marvelling at the insanity of waste in the ex-MUSA logging site we were hit .... hard... by an afternoon rainstorm. The driving sheets of torrential rain brought visibility down to a few metres, so huddled up under the shelter of a tiny 'Roti Shack' we contemplated the next move. As luck would have it, trying to stay dry with us was the owner of the quarry who, realising our imposition, promptly invited us to stay with him. Feeling somewhat like we were about to 'sleep with enemy' we accepted his kind offer and left the graveyard of logs behind.

Speeding down the thick, muddy, red roads to his camp, he explained that his company only supplied local needs (building the sea defences of Niew Nickerie) and his localised quarry has far less impact than the uncontrolled, polluting effects of gold-mining. Not to mention the international companies that come and plunder the forest, shipping out the country's wealth to little local benefit (except the fattening of a few local politicians' wallets!).

Back on the river the endless hedge of green seals us in as we push on against the powerful Corentyne current. As time goes by we can see more depth and more colour on the passing banks. When one of our crew points out a bird or monkey, we are no longer gazing furtively into the distance like lost children ... it's a good feeling. Yet despite the 'tuning in' process and the fact that we don't spring into fits of arm-waving when bugs the size of birds land on us, it's good to know that we have a crew totally wise to the ways of the river and forest (see video). Our initial romanticised visions of paddling downstream on our own, happily did not materialise ... we wouldn't have stood a chance!

We had planned to make camp on the riverbanks...but there are no riverbanks - the whole area is flooded. The unusually high waters this year had us all frowning at the thought of sleeping in the boat tonight. Then like a beacon of hope on this lonely river, Cowfalls, a semi-submerged eco-resort appeared out of nowhere. A dry night beckons.......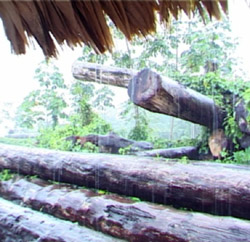 View from the 'Roti Shack'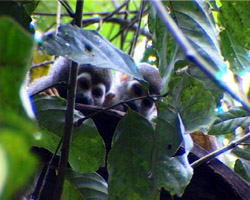 Tuning In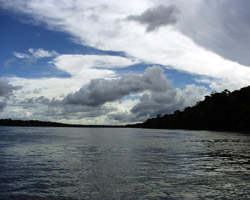 Rush hour on the Corantyn Highway