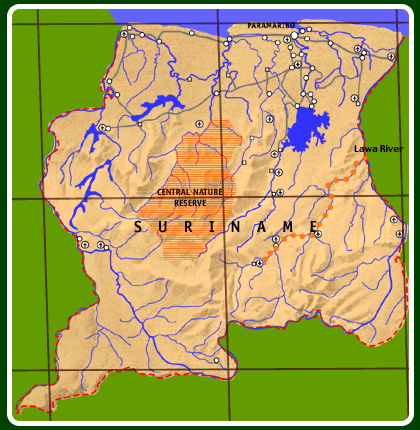 (5) In Tepu we continue our look at Trio culture. Moving down to Palumeu we recoup a bit of energy while we focus on eco-tourism and review and assess its impact and incentives. We show the impression tourists have of their trip. We hear the voice of the Captain of the village, and platform the work of M.E.Ts (The Movement for the Development of Ecotourism within Suriname) From there we begin our journey to Steolman's Island travelling down the Upper Tapanahoni.

We are here guided by Paramacca Maroons, and the advice, if not the presence, of Anthropologist, Cassandra Moore. We Climb up Rosevelt Piek and focus on biodiversity, Maroon forest-knowledge, and their uses of plants.

We re-focus on Maroon culture and history - descendants of runaway slaves of West African origin, who fought for and won their freedom from the Dutch colonialists in the late 1600 century. These communities have retained much of their traditional African heritage. We platform the voice of the Parramacca People - Granman Gazon, paramount chief of the Parramacca people.
19/06/00 Tepu- Upper Tapanahoni
20/06/00 Reading Dreams
21/06/00 Paleumeu - METS and Eco-Tourism
22/06/00 Rocks, Rapids and Rainbows
23/06/00 Contemplating New Heights
24/06/00 Rosevelt Peak- The Gamble
25/06/00 Sunday Service in Peleowime
26/06/00 Past Rapids - Under Palms
27/06/00 Dritabikki - A Whole New World
28/06/00 Granman Gazon- Voice of the N'Dukas
29/06/00 From Granman to Gold Men
30/06/2000 A Mine of Information